Low cost advertising – Create a positive company image with promotional clothing!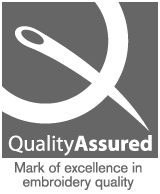 True Colours Marketing offers a wide range of quality clothing, including jackets, coats, fleeces, jumpers, blouses, shirts, polo-shirts and t-shirts – all of which can be embroidered or printed with client logos and promotional messages. The Personalised clothing is a great way to promote your company and is suitable for Company uniforms; Trade shows uniforms, Customer gifts Sales / Promotional incentives and Online Merchandise.
Quality Embroidery Guarantee
True Colours Marketing offers a quality embroidery guarantee for your peace of mind.  As marketers we understand and appreciate the importance of logo consistency throughout all marketing mediums which is why we endeavour to produce your logo to the highest embroidery quality possible.  An initial sample of your embroidered logo can be viewed before production of personalized garments commences for your added peace of mind.
Ever considered having Your Company Merchandise for Sale Online?
How much would Your Customers be prepared to Pay to get their Hands on Your Brand?
Choose from the Hundreds of Products from the Clothing Catalogue.
Call Today to discuss your Branded Merchandise requirements T.028 8556 7197
Customised Work wear
True Colours Marketing offers a range of stylish work wear offering comfort, value for money and a professional corporate image for your organisation. A number of smart options are available for your workforce including shirts, blouses, boiler suits, work wear trousers and a range of Hi Visibility clothing. Be Safe, Be Seen, Be Compliant with High Visibility Fleeces, Polo Shirts and Vests.
Customised School Wear
Catering for all ages our range of quality clothing is available in a fabulous selection of colours and sizes to suit your school or club. Playschool children, staff and classroom assistants can be catered for with a range of sweatshirts, polo shirts, fleeces and hi viz vests.
School Leavers Hooded Jumpers
School Leavers Hooded Jumpers are a great memento for pupils and are becoming increasingly popular. All garments can be embroidered or printed for a customised design especially for your school.
Customised Kids Clothing
See your Kids Smile when they are able to wear your branded clothing!
A very special range of clothing has been created for very special people. Catering for tiny tots and children of all ages branded clothing can be the perfect gift for a birthday or special occasion. Kids love to be seen in branded clothing just like their mums, dads, aunts or uncles. Choose from lots of items in the Clothing Catalogue and have them embroidered with your next order.  Order a minimum of 12 garments and look out for that BIG SMILE! Enjoy the benefits of having your logo already Set Up and put a smile on your son, daughter, niece or nephews face Today! T.028 8556 7197
"Pleasure in the job puts perfection in the work." Aristotle